John Ruaridh Grant Mackenzie; Viscount Tarbat, Baron Castlehaven, Baron MacLeod, created 1861;
MIExpE; explosives engineer; recognised by Lord Lyon as Chief of Clan Mackenzie; discontinued the use of the forename and surname of Blunt 1962; b. 12 June 1948; son of 4th Earl of Cromartie, MC, TD and Olga (d. 1996), daughter of the late Stuart Laurence; succeeded his father, 1989; educated: Rannoch School, Perthshire, and Strathclyde University;
Member: Council, Mountaineering Council of Scotland, 1995-; author of Selected Climbs in Skye, 1982; articles in Classic Rock Climbs and Cold Climbs;
married, 2012, Eve Austin.
Recreations: mountaineering, art, astronomy, geology.
Heir: his son the Viscount Tarbat, quod vide. Address: Castle Leod, Strathpeffer, Ross-shire, IV4 9AA. Clubs: Army and Navy; Scottish Mountaineering.
Sons:
Colin Ruaridh (Viscount Tarbat), b 1987.
Hon Alasdair Kenelm Stuart, b 1989.
[Sources: Extracted from Debrett's Peerage and Baronetage 1995 and
Who's who 1998, 150th edition ]
Blazon of Arms of the 5th Earl of Cromartie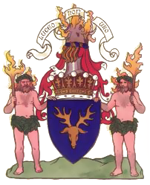 Shield: Azure, a deer's head cabossed Or
Crest: A mountain in flames Proper
Motto: LUCEO NON URO
Supporters: On a compartment embellished with stag's horn club moss two savages wreathed about the head and middle each holding in the exterior hand a baton resting on the shoulder burning at the end and the hair likewise enflamed all Proper.